TUE, 01 NOV 11, 20:00   RICH MIXBUY TICKETS HERE
[Siberia] [Rare UK Performance]
>
ARTIST: Namgar
COUNTRY: Siberia
GENRE: Extremely exotic fusion of Buryat-Mongolian shaman traditions and modern rock/electronic/jazz elements
ABOUT: Singer Namgar Ayushievna Lhasaranova is the leader of the band and her name was used to call the entire group (Namgar means "white cloud" in Tibetan). She grew up in a Buryat family in the tiny village of Kunkur near the border crossing of Russia, Mongolia, and China. She comes from a long family line of shamans. The other original members of the Moscow-based band are Jipo (Eugene Zolotaryov), Namgar's husband, who comes from Ulan-Ude, Buryatia, and plays the chanza lute; Altay (Altangerel Khishigtogtokh) is a young Mongolian musician who plays the morin huur (horse-head fiddle); and Urna (Urantugs Jamiyan), a Mongolian woman from Uliastai, Mongolia, who plays yataga, an ancient zither
In the heart of Siberia, under bottomless blue sky, Namgar's songs were born. She mastered the mysteries of the great wide open and the voices of spirits of mountains and forests. She loves the melodies sung by her grandmother and her father and desires to maintain the tradition that is becoming extinct. Namgar sings long songs and yokhor dance tunes, uliger legends of mighty champions, precise arrows, and swift horses, just as they were sung ages ago, with arrangements that make her music appealing to world music fans.
The Hori Buryat tribes to which Namgar belongs, historically were supporters of Genghis Khan and important commanders of the Mongol Invasion. Their songs and dances date back to the glorious times of the Mongolian Empire, preserving many genres and songs that became extinct in the other parts of Mongolian world.
Being separated from each other politically since XVII century, Buryats and Mongolians still share many common traditions, and in search of cultural identity often think about each other as "true keepers of the ancient heritage". Buryats live in the Russian Federation, where it borders with Mongolia and Manchuria. Buddhism, Shamanism, and the natural beauty of South Siberia contributed to their tradition. They share a lot of musical themes with their relatives, the Mongolians, with a special attention to dance tunes that became extinct in Mongolia.
The repertoire of Namgar consists of the songs and melodies shared by Buryats and Mongolians, embracing the world of sounds as big as from the Lake Baikal in the East of Russia to the Great Wall in China, from the songs of shamanist gatherings of Siberia to celebration songs you might hear at a midsummer fest in Buryatia to exquisite melodies from Inner Mongolia. Looking like characters from the ancient legends of Asia on stage, the group delivers the music that is both exotic and easily accessible.
The group made their first appearance on the international stage at Riddu Riddu Festival in Norway in 2002, along with Mari Boine and a bunch of other World Music celebrities.
In October 2003, Namgar released their first official CD entitled "Hatar" (round dance). It boasts a first ever collection of Buryat all-time favorites that are quite distinct and neatly arranged. It was a group of enthusiastic young people from Moscow who started a label called Sketis Music, specializing in world music, who gave the opportunity to the group to record their album, because they were sure this music was fantastic. The album cover was designed by Dashi Namdakov, the most prominent young artist among the Buryats.
In late 2000′s Namgar evolved its repertoire to include compositions with strongly changing rhythm and key. In late 2008, they completed a new album, "Nomad", that comprizes songs in at least 3 styles: traditional Mongolian/Buryat music, pop music, and ethno-rock.
SELECTED DISCOGRAPHY:
- "Nomad" (2009)
- "Hatar" (2003)
SELECTED VIDEO: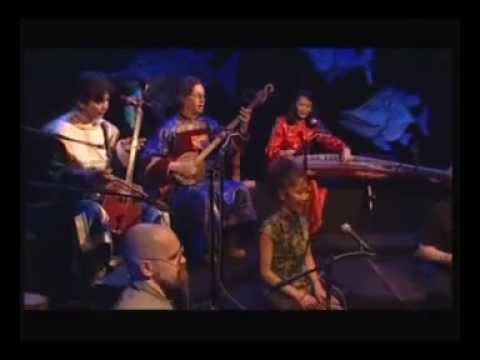 SELECTED PRESS REVIEWS AND QUOTES:
"As for exotica, how about Namgar? This rock ensemble from the Siberian steppe, which combines traditional and modern instruments, is named for its colorfully dressed lead singer, who seems almost a Mongolian version of Bjork." (The New York Times)
"My favorite band–or at least the band that surprised me the most by combining styles I never imagined I'd hear together–was Namgar, a band I didn't get to draw. Namgar is from Russia and combines Mongolian folk singing with a sound you wouldn't be surprised to hear emerging from Iron Maiden's amps. Namgar was lush, epic, gorgeous and completely unexpected, which is exacly the sort of thing I have come to expect from Global Fest." (Inklines)
"Four of the 12 acts will be making their American debuts. One, the Russian-Mongolian shaman-rock band Namgar, from Buryatia, concocts distinctive blends of rock and Buryat traditions." (The Star-Ledger)
"The Moscow group preserves the indigenous musical traditions of Southern Siberia and Mongolia, combining old folk tunes with modern compositions and arrangements" (The John F. Kennedy Center for the Performing Arts)
"Hailing from the mountains of Siberia, Namgar present themselves in outfits that might come off as unconventional. Their melding of sounds however is anything but ordinary and that alone helped the group grasp the attention of every attendee in the venue's ballroom area." (Randomville)
SELECTED PERFORMANCES:
- Maslenitsa Russian Festival, Trafalgar Square, London, UK (2011)
- Canada Summer Tour, London/Vancouver/Ottawa/Owen/Pefferlaw/Wells, Canada (2010)
- The Kennedy Center For The Performings Arts, Washington DC, USA (2010)
- globalFEST, New York, USA (2010)
- Ontario Council of Folk Festivals, Ontario, Canada (2009)
- Riddu-Riddu, Norway (2009)
- Ocean of Compassion International Festival, Moscow, Russia (2009)
- Ethno Festival, St Petersburg, Russia (2008)
- Alianite Arts Festival, Canada (2008)
- Arctic Frontiers conference, Tromse, Norway (2008)
- Roza Mira Festival, Moscow, Russia (2008)
- Shark-Taronalari, Uzbekistan (2007)
- By:Larm, Tromsö, Norway (2006)
- The Festival of Buryat Art, Paris, France (2006)
- RidduRiddu Festival, Norway (2005)
- Rainforest World Music Festival, Borneo, Malaysia (2005)
- International Expo, Beijing, China (2003)
SONGS:
BOOKING AGENCY: RED ORANGE
>
TUE, 01 NOV 11, 20:00   RICH MIX